Zortic Book #2
on
October 27, 2010
at
8:15 pm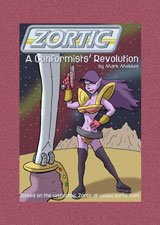 It's here!  The new Zortic book, Zortic, A Conformists' Revolution is now available for online purchase.  It picks up right where Zortic: An Alien Just Like You left off.  So it's an absolutely "must have" in order to complete your Zortic Book Collection.
And, of course, I will have plenty on hand when I appear at the UP! Fair in just a few weeks.  That's the best way to get your autographed copy.
So don't hesitate, get it now and beat the holiday rush!